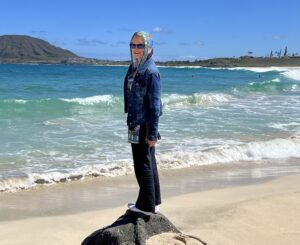 It all started when a 14 year old submitted a poem from her journal to a teen magazine.  The rest is, well, you get the idea.
KaZ was in the entertainment industry for 35+ years.
She began performing in musical comedies and writing in New York at age 14. 
Throughout her career KaZ was a singer, dancer, actor, stunt performer, professional water skier, choreographer, casting director, television producer, artistic director, stage director, stage producer, voice-over artist and director, circus artist, and stunt coach.
After her first publication KaZ went on to write for television, published and produced plays and music, in books, for print and online magazines, in journals, anthologies, collections and popular websites.
She began studying meditation in 1991 and went on to certify as a master meditation instructor and Qigong instructor.
KaZ was also co-owner of a television production company, two restaurants, a fitness center, and the owner of a cinema.
KaZ was the meditation teacher and Resident Poet  for the online, digital The Pro-Age Woman Magazine.
She also has the  new Brain Hug Meditation podcast on Spotify and Apple Podcast and the YouTube channel Brain Hug Meditation. 
KaZ is a nearly lifelong nature and wildlife conservationist.